Facials
Did you know? Your skin can respond negatively to stress, just like your mind. We have a variety of facials that supercharge your skin routine.
It's time to make room for real beauty!
snowglobe radiance Rewewal facial
Renew skin with a blend of resurfacing fruit acids and poppy seeds followed by a toning Glacier Ice Globe facial massage to expose natural radiance. Leave with plump, hydrated skin while additional results will unfold in the upcoming weeks from a powerful fruit acid
boost designed to jumpstart collagen production.  Hands and arms are soaked in balmy butters while warm mitts and a hot towel aromatic back towel will soothe, resurface and rehydrate this hard to reach area.
Price $130.00
The Natural FaceLift 
Whether it's tired, puffy, heavy eyes or sagging cheeks, mouth and jowl, we all wear time differently. This facial adresses a woman's specific concerns. Each layer of the face and surrounding area is gently manipulated and reshaped with a customized focus on problem areas.
You'll leave with an instant lift and fullness. Not only will the tension in your face disappear, especially the jaw area, so will signs of aging. Feel and look years younger!
Our Natural FaceLift Method
( Chest, Neck, Face work )
• Releasing tension from the tendons that surround the face
• Stretching contracted muscles on the face and neck (combined manual lymphatic drainage massage)
• Releasing the tension in the chewing tendon (buccal massage)
• Stimulating of the sleeping muscles and reengaging muscles with ptosis in the chest, neck and face.
• Stimulating proper blood circulation and oxygen supply in the neck and face area (combined manual lymphatic drainage massage)
The combination of all these techniques during the facial will give you an instant lift with a more youthful appearance while leaving you refreshed, rejuvenated.
The Natural FaceLift 
Includes:
-Full skincare consultation
-Cleansing
-*Aesthetic lymphatic drainage massage
-*Intraoral buccal massage
-Signature lifting massage
-Complete conditioning, balancing and hydration of your skin
-Take home before & after collage
Price ~ $185
*Aesthetic manual lymphatic drainage massage-The manual lymphatic drainage technique itself consists of gently stretching and releasing the skin. This can help keep collagen and elastic fibers healthy, improving skin tone naturally.
*Intraoral/Buccal massage- A buccal massage is not your regular facial massage. This may sound a little weird, but in the process, your Aethetician puts her hand inside your mouth and massages your face from the inside out. This technique will allow for muscle deep relaxation toning. Chewing tendon is softened, lower face is restored.
Dermatude Meta Therapy
Meta Therapy is a new non-invasive, non-traumatic method of skin rejuvenation, helping hydrate and restore the skin's natural glow. Meta Therapy conditions the skin's surface using specially designed polycarbonate modules that remove dead skin cells and deeply cleanse. Use proprietary branded skincare to improve results.
Price $200.00
Pelle Prescription Facial
If this is your first facial with us or ever, this customized experience is perfectly formulated for your skin's specific needs and concerns. Enjoy improved skin tone, texture, and luster with a personalized prescription treatment that exposes your natural balance and youthfulness. After a professional analysis, your skin is deeply cleansed, softened and exfoliated under steam before deep pore extractions are gently performed.  Skin tissues and muscles are balanced and soothed through skillfully designed massage techniques.  Targeted masking unlocks natural vitality and restores your deep healthy glow.  Scalp, neck, shoulders and facial muscles are relaxed and rejuvenated. *60 min. $120.00 
Infusion Facial
This treatment features a hybrid experience offering a customizable facial experience exactly like our Pelle Prescriptive Facial, but with a targeted Light Infused Mask treatment. This Lightwave pulse naturally drives selected actives deep into the epidermis, communicating with lower level cells, which respond more effectively than traditional masks applied topically.   In addition to face, neck and shoulder tension release, choice of hands and arms or foot and calves are soothed and relaxed.  *65 min. $165.00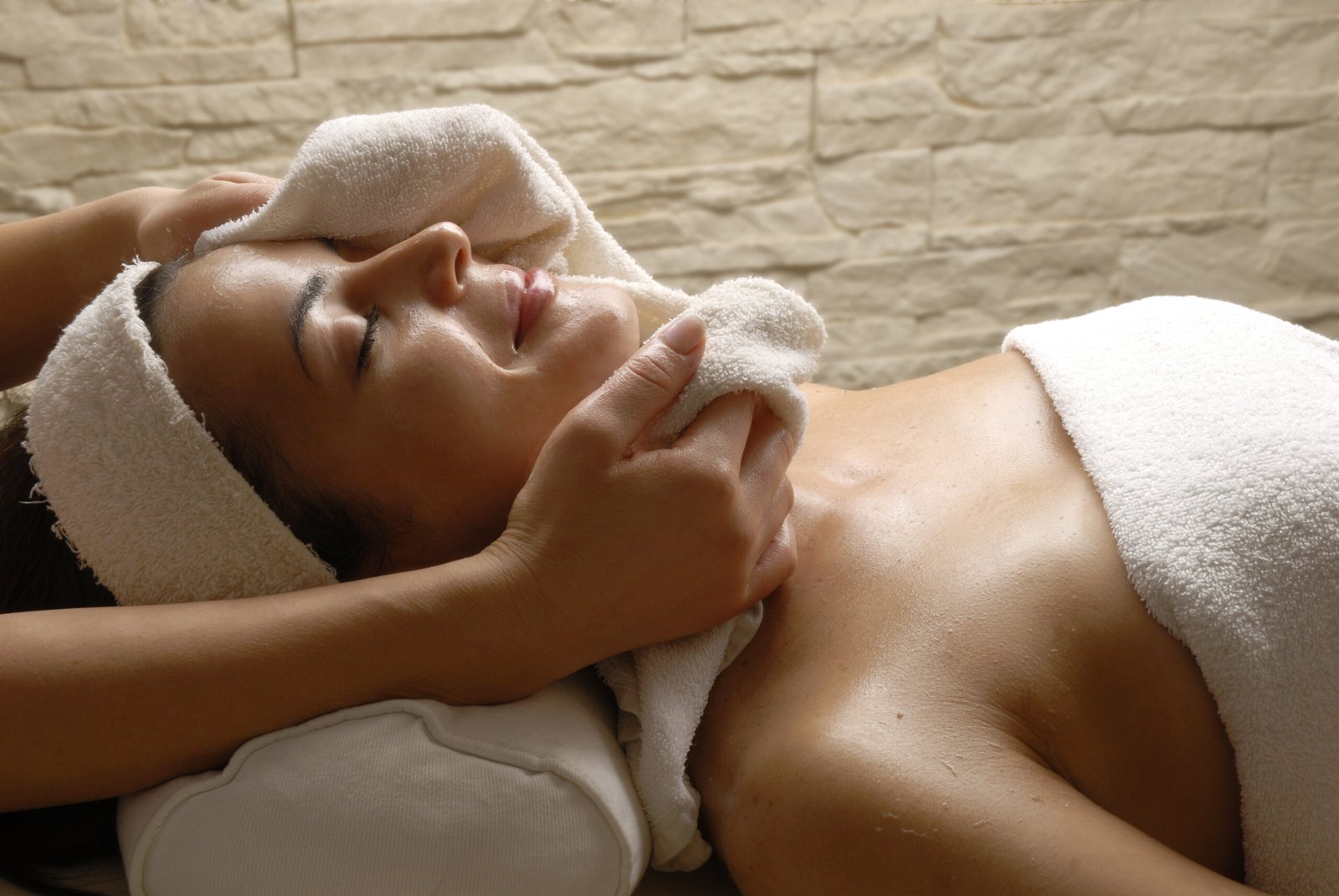 Tension Lift Facial
Lift, and lighten your facial features while you completely relax from head to toe. With the growing number of screens and zoom calls we face, this is a perfect combative treatment that offers smooth and glowing skin and reduced upper body stress.  During a steamed cleanse and fruit acid exfoliating, muscle tension is released from the scalp, neck and shoulders.  Impurities are removed before facial tension is skillfully massaged away with a specialized European technique.  Skin is enveloped in a comforting Marine Mermaid Mask that deeply remineralizes and firms, restoring all that has been depleted in the skin.  Any residual tension is melted away with the use of aromatherapy touch, acupressure and Iced Glacier Globe massage. *75min. $145.00
Tension Lift and Illuminate Facial
Our Tension Lift Facial taken to the next level; Enjoy steam cleansing, double exfoliation, and thorough extractions performed by a professional. Lightwave Therapy then deeply rejuvenates and detoxifies all layers of the skin. Marine Firming Mask lifts and fortifies while gua sha stones enhance face and neck skin while draining excess fluids. Skilled manual manipulations relax, lengthen, and lift the muscles responsible for facial features. Hands, feet, and scalp are also soothed and hydrated. *90 min. $195.00
'The Boost'
With this powerful 4% retinol, Sorella Apothecary's Professional  'Boost' will encourage healthy skin turnover visibly reducing signs of aging, pigmentation and uneven skin texture. Green Tea Extract, Licorice and Vitamin C are the perfect blend for achieving the highest results. Perfect for those who are new to Peels.  Ask about how a series will transform your skin.  *50 minutes $135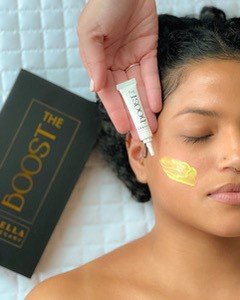 Resurface and Restore PEEL
This controlled chemical exfoliation lifts dead cells to the surface, lightens dark spots, and reduces the depth of wrinkles and fine lines. Skin immediately appears brighter and more refined. With the proper home-care, results can be seen 1 week after a peel. *Ask about the savings and benefits of scheduling a Peel Series. *Proper post-care is recommended. *Esthetician may recommend an alternate facial based upon the current condition of skin at time of the scheduled Peel.   $135.00
Dermaplane Facial
This is a professional age-management treatment. Dermaplaning is a cosmetic procedure that gently removes the top layers of your skin. The procedure aims to remove fine wrinkles, deep acne, and scarring, as well as peach fuzz making your skin's surface look ultra-smooth. Skin is 100% fortified and restored upon completion with a luxurious plant stem cell, hyaluronic acid, and tri-peptide gel cellulose mask. Post-treatment effects offer long-lasting and smooth results.  This facial is not suitable for persons with sensitive or acneic skin. Service may be subject to change upon initial skin evaluation.  *60 min. $125.00
My Teen Facial
Healthy skincare habits start here! Your teen will leave knowing why and how to care for their skin. gentle cleansing, extraction if needed, and appropriate masking is chosen based upon each individual's specific skin concerns. Tips, tricks, and lifestyle suggestions are part of this fun and fundamental facial for teens from ages 10-15 *45 min. $90.00
With dynamic expertise dedicated to luxury and results, Pelle Sana offers high-end service that tailors treatments to suit an individual's skin and wellness concerns. In addition to advanced, pure, clean, and fresh Sorella Apothecary products, each treatment is carefully crafted to ensure a unique and memorable facial experience.
"A beautiful, clean, and welcoming environment. Pelle Sana Skin Spa is a little slice of heaven! On two different days, I received the Dermaplane treatment which left my skin super smooth and blemish-free. No pain and no downtime whatsoever. For my second treatment, I signed up for the Customized Facial with gua sha / hot and cold stones. It was absolutely the best facial experience I have had to date. It delights all of the senses. Great aromas, perfect temperature of the table, beautifully clean and safe setting, and the results were beyond expectations. I am planning on coming on a monthly basis!"